Why buy from Lowbrow?
Free Shipping On US Orders $79.95 & up*

Everything In Stock & Ships Fast!

Fitment Guaranteed

90 Day Money Back Guarantee

No Restock Fees, Ever!

Free Expert Motorcycle Technical Support
Customer Reviews
Write a Review
Ask a Question
Winter Hardtail Project
This is my first attempt at creating a "Ratbike Hardtail" I looked at frames complete, hardtail kits (bits and pieces) in the extreme DIY build. I discovered many shops had "weld-in" hardtails and many just attached to the cradle of the donor frame. I decided a complete backbone structure provided by Lowbrow seemed a stronger, more adaptable design. It was not the least expensive, but you get what you pay for. I am not an engineer, but have reasonable mech/structural abilities After ordering, shipping was much faster than advised. :) the tail comes in, beautifully welded, and premachined to fit the donor's downtubes so after cutting away approximately 85% of the doner frame (81 CB750C DOHC) let the project begin! Some pics of the kit
EXCELLENT PIECE!
I ADMIT I WAS IMPATIENT DUE TO READING THE OTHER REVIEW ON HERE ABOUT WAITING ONLY 3 WEEKS, HOWEVER WHEN I RECEIVED THIS GORGEOUS PIECE OF ARTWORK I WAS PLEASANTLY SURPRISED BY THE QUALITY OF THE WELDS AND THE STEEL! I ONLY WISH THE BACK BONE WAS WELDED IN PLACE SO I'D HAVE ONE LESS THING TO DO BUT SO WHAT, THAT'S MINOR, I'M SURE THAT'S FOR ALIGNMENT PURPOSES. THANK YOU FOR SUCH A GREAT FRAME PIECE! THIS IS MY FIRST BUILD FROM SCRATCH AND I'M LEARNING A LOT AS I GO EVEN THOUGH I'VE BEEN WORKING ON MY OWN BIKES FOR OVER 40 YEARS, IT'S NOT AS EASY AS ON TV THAT'S FOR SURE!
MK42 Hardtail for CB 750 DOHC
I only waited 3 weeks. That was perfect for a built-to-order part. It came with the upper brace tacked on and the lower brace, motor mounts, and backbone/seatpost unattached. Welds are very clean and look like they have good ***********. There's a flat on the axle blocks for an adjuster screw which is a nice detail. The only complaint is the top brace will need to be cut off AND shortened to allow the backbone/seatpost to fit tight to the adjacent tubes. Despite this shortcoming, I highly recommend This product. (This review is for the MK42 NOT welded to the CB 750 frame.)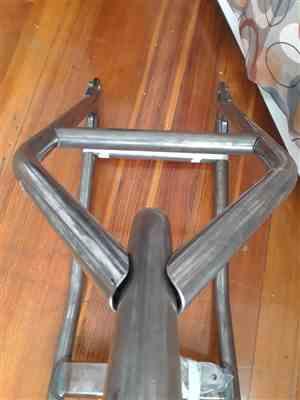 Awesome. Most appreciated
Awesome. Most appreciated